Who doesn't love chocolate? Ok, there are a few, but they're far and few between. Ha-ha…. I am the first to admit…. I am a chocolate lover. I'm not going to lie- this is one of my favorite subjects to talk about. So, if this is your favorite subject as well, all you have to do is keep on reading and discover more information on cocoa benefits.
As you will see, when it comes to the benefits of cocoa, there are quite a number of interesting facts to discover – for example, did you know that cocoa is rich in antioxidants and thus can enhance* the functioning of the brain? Cocoa brain benefits are plenty, as you will be able to read below.
So what is it that draws us to chocolate, well for many of us, it's telling us that our body is lacking essential nutrients such as magnesium. That's why at meal times, it's recommended that we consume unprocessed, whole foods (recommended), including vegetables, fruits, whole grains, meat, poultry, fish, and dairy.
Let's not forget, the key component to finding the right chocolate is one that is in its purist form, called raw cacao, also known as "cacao, the food of the gods" in the Greek language. It has a surplus of health benefits that may contribute to weight loss* due to its natural ability to suppress* the appetite. Another important factor is that chocolate has antioxidants along with essential vitamins and minerals, that boost* the metabolism, and therefore, the calories are more in balance.
And to think, I'm now convinced I need to add more chocolate into my daily diet. Then researchers come up with even better news… that chocolate can keep us thin. Yes, they have my attention and here's what I found out!Scientists from the University of California of San Diego studied nearly 1,000 individuals and found out that those who regularly eat chocolate are thinner than those who just sparingly eat cacao. Of course, they are not saying that eating a few bars a day will help you drop lbs., but due to the antioxidants and ingredients in cacao, can boost* weight loss* and they show lower BMIs.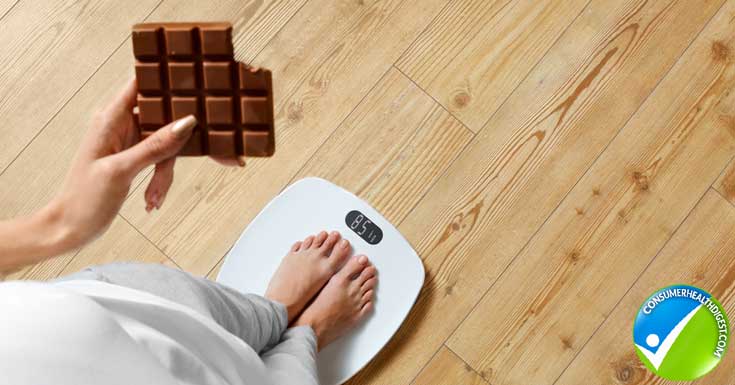 Then to find out there was such a thing as "The Chocolate Diet". I thought I had gone to heaven. So what's behind the so-called "Chocolate Diet, well by allowing yourself just a few chocolate bites per day – can actually make you feel more satisfied and therefore, lead to less chances of binging on those unhealthy treat* options. This leads to reduced* snacking that can aid in weight loss* benefits. According to a small study by the University of Copenhagen, dark chocolate may even reduce* cravings for sweet, salty and fatty foods.
The essential minerals include calcium, sulfur, zinc, iron, copper, potassium, and manganese. They contain polyphenols called flavonoids, with antioxidant properties that can offer skin protection against UV damage, along with the following vitamins- B1, B2, B3, B5, B9, and E. It also carries essential heart-healthy fat called oleic acid, a monounsaturated fat, along with protein and fiber.
Raw chocolate has many amazing nutrients that most of us had no idea that our sweet tooth led to creating an abundance of the following healthy attributes Just, remember, there are many benefits of cocoa to discover. The most important ones that you need to keep in mind are the cocoa brain benefits – as cocoa is rich in amazing ingredients, it should come as no surprise that it can stimulate brain health and the overall cognitive function.
1. It can promote cardiovascular health by lowering LDL cholesterol and lowering plaque buildup on the walls of the arteries along with lower risk of heart disease. This is reflected by the benefits of dark chocolate being so heart-healthy and inflammation fighting perks.
2. It may fight diabetes. According to a 2005 Italian study, they found regularly eating chocolate increases* insulin sensitivity and therefore; reducing* the risk for diabetes.
3.It can reduce* blood pressure and enhance* circulation by aiding in the strength of dilation and health of blood vessels.
4. It supports digestion while the cacao moves the production of digestive enzymes in the body.
5. It can balance the free radicals from sun exposure, or pollution by protecting the body through the high level of antioxidants in cacao.
6. It enhances* mental and physical well-being by improving* mood, lowering stress and reducing* depression.
7. It reduces* stroke risk.
So, How Does Chocolate Boost* Our Brain?
1. It can make you smarter- According to a British study, the cocoa's flavanols increase* the brain's blood flow, which seems to make people feel alert and more awake and therefore; perform more efficient on counting tasks and improve* thinking skills. "From laboratory studies, we know that flavanols smooth the way for brain cell connections and survival, and protect brain cells from toxins or the negative effects of inflammation," says Dr. Miguel Alonso-Alonso, a neuroscientist at Harvard-affiliated Beth Israel Deaconess Medical Center.
2. It improves* vision due to the improvement in the blood flow caused by the benefit of chocolate, may increase* blood flow to the retina and therefore; improving* vision.
3. It can quiet a cough, due to the theobromine, an ingredient in chocolate that seems to lower activity of the vagus nerve, the part of the brain that provokes hard to shake off coughing.
4. It can prevent blood clots, and fight cell damage, due to the flavanols in chocolate.
Of course, keep in mind chocolate is high in calories, so according to news out of England, the middle aged to older adults can eat up to 3.5 ounces of chocolate per day to aid in lowering heart disease rates than those who turn down chocolate. Really, who turns down chocolate? The 3.5 ounces are actually more than 2 standard Hershey bars….. According to the European Food Safety Authority, it is suggested that 200 mg of cocoa flavonoids per day is a good target for the general population.The higher the cocoa content of the bar, the more health benefits it will provide, usually bars with 70% cocoa or more.
In summary, knowing the many health benefits that chocolate offers to aid in our goal of being healthier, it's a win-win. But as I always say, all in moderation. As always, consult your health professional before starting any diet to ensure you are on the right track. When it comes to cocoa benefits, think about its rich content in antioxidants and how this can help your brain to work more efficiently.
Discuss with your family physician about the benefits of cocoa and how you can incorporate it into your daily meals and/or snacks. Ask about the cocoa brain benefits and he/she will certainly confirm these as well.
I hope this article finds you in good health.
Sources:
Sweet dreams: eating chocolate prevents heart disease www.health.harvard.edu
Cocoa: a sweet treat* for the brain www.health.harvard.edu
2017 Integrative Nutrition, Inc. Learning Library under Dietary Theories
Image Credits
Featured Image: Shutterstock
In-Post Images: Shutterstock & onegreenplanet.org